www.bookbyyou.com
press-release
tropical-treasure
17
press-release-tropical-treasure.html
Personalized Romance Novel - With Reality TV Theme
Just in time for Valentine's Day!
London, Ontario, Canada - January 19, 2002 - Book By You Publishing, through its Romance By You division, today released 'Tropical Treasure', the third in its series of personalized romance novels. Turn off reality television and get ready for the action, drama and romance of Tropical Treasure! You are one of six lucky contestants whisked away to a remote tropical island to compete for a million dollar treasure chest of riches - in the televised game show called TreasureQuest. Best of all - it's personalized - readers can star in the leading role!
Romantics and book lovers alike can co-author Tropical Treasure by selecting the names and features for the main characters in the book - the highly spirited heroine, her best friend and our quick-witted hero. Include a spouse or significant other, friends, relatives, co-workers or Hollywood stars - even a pet - in your very own novel! The characters' hair color, eye color, figure and favorite drink are some of the story's 25 personalized characteristics that make this book a remarkably individual and unique romantic gift. Tropical Treasure is a 180-page, professionally bound, paperback novel that includes a striking personalized front cover.
To purchase a personalized novel, readers go to the company's website (https://www.BookByYou.com) and fill out a character questionnaire specifying the various criteria and information to be included in the novel. The questionnaire is fun and easy to complete. Not sure if this style of romance novel is for you? The company offers a demonstration area where readers can preview personalized excerpts from each of its books. The book can also be ordered from the company's toll-free order line at 1-877-898-1440.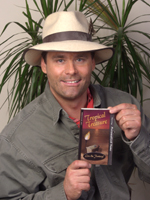 Publisher, Michael Pocock, in outback attire at Tropical Treasure launch.
Michael Pocock, founder of Book By You Publishing commented, "This is by far the most exciting of our personalized novels. We've taken the whole reality TV theme and packaged it into a marvelous storyline that people can personalize. In Tropical Treasure we have included many of the best and most humorous aspects of Reality TV - everything from the charismatic and sarcastic game show host to the mental, physical and outlandishly silly challenges that contestants must endure. The storyline also includes a weekly television broadcast that shares the story's bedlam and backstabbing with millions of viewers. Along with being a marvelous adventure, Tropical Treasure is a romance novel - and with Valentine's Day fast approaching - we believe this new novel will be a huge success. Our personalized romance novels last much longer than chocolates and roses!"
Picture Ausable Creek Picture Co.