London, Ontario, Canada - December 1, 2000 - Book By You Publishing, through its Kids Book By You™ division, today announced the release of its full-length personalized children's novel 'The Golden Key'. Children's adventure stories have recently received wide acclaim and 'The Golden Key' propels this genre into cyber-space by allowing children to include themselves in the fantasy.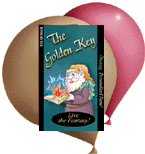 Now kids and parents can co-author their own full-length fantasy novel by selecting the names, features and places to personalize. They can put themselves or someone special in the leading role and include friends, relatives or even television characters. 'The Golden Key' is a 100-page, professionally bound paperback novel with over twenty characteristics to personalize and it includes a personalized front cover.er.
Mike Pocock, founder of Book By You Publishing commented, "Last year we successfully launched the personalized romance novel 'Love's Next Door' and the response was overwhelming. We immediately realized the importance of character and story development when personalizing a full-length novel. Emotions overflowed - some readers laughed at the antics and others cried at the romantic theme. These types of emotional responses helped us to realize the power personalizing content can have upon readers. Children accept the world of fantasy much more readily and their imaginations run wild as their personalized character develops throughout our 100-page story. This is far different than the current personalized picture books that contain little in the way of story content."
'The Golden Key' is a classic tale of wizards, mystical worlds and remarkable escapades that will amuse, excite and delight the imaginations of both young and old alike. Great for children of reading age or the story can be introduced to younger children as a bedtime classic. Themes such as the value of friendship, perseverance and following your dreams are explored and uniquely presented in a manner only possible through this full-length personalized format. To add to the adventure the company has added personalized hand shadows of the animal characters included in the story.
To purchase a personalized novel, readers fill out a character questionnaire by specifying the various criteria and information to be included in the book. The questionnaire is fun and easy to complete with three essential characters and features such as hair color and style, eye color, main character's street address and the name to appear in the front cover. The many personalized characteristics make this book a remarkably individual and unique gift.
Pocock further commented, "We plan to use this new personalized children's book product to launch our new E-book platform that will deliver personalize content through a broad range of media."