London, Ontario, Canada, January 14, 2001 - Book By You Publishing, through its Romance By You division, today released Medieval Passion, the second in its series of personalized romance novels. Medieval Passion describes the ageless tale of true romance and is filled with love, passion and humor. Best of all - it's personalized. The reader stars in the leading role!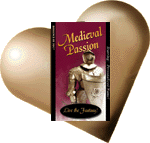 Romantics and book lovers alike can co-author Medieval Passion by selecting the names and features for the main characters in the book, the highly spirited heroine, her best friend and the gallant hero. Include a spouse or significant other, friends, relatives, co-workers or Hollywood stars - even a pet! The characters' hair color, eye color and figure are some of the story's 25 personalized characteristics that make this book a remarkably individual and unique romantic gift. Medieval Passion is a 160-page, professionally bound paperback novel with a stunning personalized front cover!
To purchase a personalized novel, readers can go to the company's web site and fill out a character questionnaire specifying the various criteria and information to be included in the novel. The questionnaire is fun and easy to complete. Not sure if this style of romance is for you? The company also offers a demonstration area where readers can preview personalized excerpts from the book. The book may also be ordered from the company's toll-free order line at 1-877-898-1440.
Michael Pocock, founder of Book By You Publishing commented, "Last year we successfully launched the personalized romance novel 'Love's Next Door'. The response was overwhelming. We received an immense amount of positive feedback from around the world. Readers laughed at the comical antics while others cried at the romantic theme. These types of emotional responses helped us to realize the power of personalized content. Medieval Passion is that much more powerful because it is a historical romance and allows readers' imaginations to run wild as they journey back to the regal setting of the 1400s - a time of courage, honor and chivalry. Of course with Valentine's Day fast approaching we believe Medieval Passion will be a huge success - it sure beats chocolates and roses!"