Michael Pocock admits he has a library stuffed with steamy romance novels.
In fact, the 38-year-old London bachelor is probably one of few men who will admit to having read just about every Harlequin romance ever published. Consider it research. Pocock has spent the best part of a year learning how to make romance his new game. And if losing himself in the pages among macho males with washboard stomachs, bulging biceps, long, golden locks -- and the sensitivity of angels -- was the cost of his mission, then so be it. It's a small price to pay for what Pocock hopes will be a thriving new publishing business.
Pocock's publishing company, Book By You Publishing, has recently launched its first romance novel. Love's Next Door has all the predictably gooey lovestruck scenes you'd expect in a romance novel. The leading lady yearns for passion, but has yet to meet her prince, who turns out to the guy next door. Our heroine is a big-city magazine editor who moves back to her hometown. There, she mischievously plays practical jokes on her handsome neighbour. In the process, she falls in love. Of course, there's a hitch -- he has a girlfriend. She conveniently turns out to be nasty and all wrong for our hero and true love prevails.
Suddenly, you're in the middle of the scene where "feelings that had been hidden for so long suddenly came rushing back to life. Every turn of her head, the brush of her arm, even the sound of her laughter, made him want to hold her and smother her with kisses" You know the rest.
It may seem predictable, but it's not. There's one big difference. The heroine isn't named Felicity or Angelique. She's named after you.
This romance novel is based on you (or your friend or spouse, if you're giving it as a gift) and set in your life. Your name, hair and eye colour is given to the female lead. It's all about your courtship, your love interest, your best friend and your arch-rival. Even your dog, cat, or hamster appears by name.
Can't think of an arch-rival for the nasty girlfriend? How about a famous movie star or supermodel? And some people have also suggested hunky male celebrities as the love interest. And you're not only the star of the book, you're also the author. Your name appears on the cover. Sound like a great gift for the romantic who has everything? Pocock's business hinges on it.
To create a personalized book, customers can go online or walk into one of the bookstores affiliated with Book By You and fill out a character questionnaire listing information such as the name of the heroine, her best friend, the male hero and the female villain.
Pocock says though the book stars a woman, the guy gets plenty of page time, too. In fact, about half of the sales are to males.
"Men love it," he says. 'They get to be the hero."
Buyers list more than 30 personal details about the main characters, from nicknames to favourite drinks.
The details are sent to Book By You and the books are printed in Ottawa. In two to three weeks, a classic romance novel is ready, thanks to what Pocock says is "the latest in on-demand printing and interactive print technology."
While the idea of personalized books is not new, Pocock says Love's Next Door is the first to take the genre to the size of a full-blown novel and with more details than just a first name.
"It's a 140-page book," he explains. "We've ended up with a novel that I'm really proud of. I mean, we won't be winning any Pulitzer prizes, but we've found it's certainly something people have enjoyed reading, both male and female."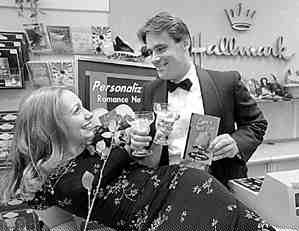 Far from being a frustrated writer, Pocock's background is in interactive technology. When he came up with the idea of a personalized romance novel, he enlisted the help of a writer friend in the U.S. But when he read through the first draft, it had too much sex and not enough romance.
"The whole objective was to be able to give this book to anyone," Pocock says. "So we spent six months editing it, taking out some sex, adding lots of humour. In romance novels, you don't find a lot of humour, but we wanted to make it fun."
But Pocock wasn't about to edit all the fun out and yes, there are a couple of sexy chapters. "They are far less explicit than anything you'd see on TV or in the movies," he's quick to add.
"I wanted to feel confident that people who bought the book weren't going to ring me back and say, 'You said I could give this book to anyone and I gave it to my grandmother and she had a coronary!' "
Meanwhile, business is growing. Orders are coming in from the Web site and Pocock recently signed agreements for Love's Next Door to be sold directly to customers across North America via Le Print Express's 50 outlets, three of which are in London, and Hallmark Cards' hundreds of locations, including four in London. Radio ads for the books start running in American markets next month.
Pocock expects most of his orders to come from the U.S., but he has no plans to move out of London.
"It can be run out of London," he says. "It's ideal for London. We don't need big manufacturing. It's a Web-based business. Plus London is a good test market. In the past month, we've seen a phenomenal interest in the book."
Pocock is so excited with the prospects, he's already thinking about a second romance novel. This one will follow the classic story line of the headstrong heroine and the muscular pirate on the high seas.
He also plans to launch a series of personalized children's books down the road.
But for now, candlelight, wine and roses are taking up much of Pocock's life.
"People love this book," he says. "We call it the most romantic gift in the world."
Kimberley Parker is a London freelance writer.
TO ORDER
What: Love's Next Door, published by Book By You.
Web site: www.bookbyyou.com
Phone orders: 1-877-898-1440.
Corporate Info: 519 439-6100.

Reprint courtesy London Free Press