www.bookbyyou.com
Classic
the-young-adventurers-collection
KLA19
yac
0
0
False
0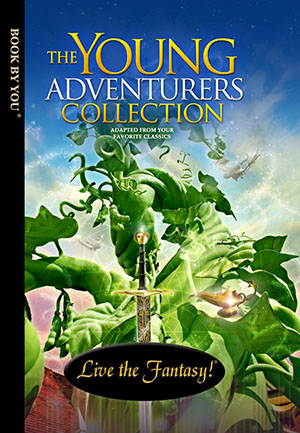 Famous Tales for Boys
A Personalized Classic Book
160 pages • 3 characters • 11 features to customize
Embark on an unforgettable adventure of a lifetime in
The Young Adventurers Collection!
Book By You proudly presents your personalized version of
The Young Adventurers Collection
, perfect for any young wanderer.
Read More
Enter a world of adventure and mystery with these four majestic tales. Climb a magical beanstalk to a land in the clouds full of giants, singing harps, and golden eggs in Jack & The Beanstalk. Discover what you can get away with when time stops for everyone but you in L. Frank Baum's short story The Capture of Father Time. Outwit and outlast a terrible dragon to save a kingdom in The Prince & The Dragon, and change your fortune as the lucky young Aladdin in the epic tale, Aladdin & The Magic Lamp. With you as the intrepid wandering hero, this collection of stories is sure to go down in history as the greatest adventure ever!
Step into these classic tales and begin the adventure of a lifetime alongside your friends! Book By You's one-of-a-kind compilation The Young Adventurers Collection features three personalize-able characters--our intrepid hero, a friend who lends a helping hand, and a princess in need of rescue, all of whom make this journey one you'll want to take again and again. ...Read Less
Add your photo to the cover
Starring: Shauna Hughes

Starring: Carla & Rick

Starring: Kelly & Luna

Starring: John & Mary

Starring: Laura & Markus