Worried about showing up empty-handed for an occasion? Don't be! Here's three perfect solutions that are easy, quick, amazingly creative and personalized!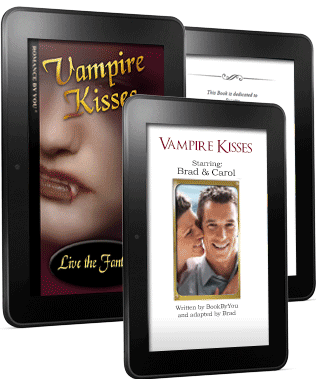 1) Personalized eBooks: All our titles are available as instantly downloadable ebooks - readable on eReaders, mobile devices or computers! Now only $19.95 and this includes a free photo upload. Last minute—or any minute, personalized ebooks are great for any kind of book lover. Combine it with the Gift Announcement (below) and you have a gift that can't be beat! Really surprise them with an ebook combined with a paperback or hardcover that arrives in just a few days! Go to:
Romance | Classic | Mystery | Teen | Kids
2) Gift Announcements: When you order your paperback or hardcover now, your personalized novel will arrive very soon. But if you want to make certain you have something to give - check out our free Gift Announcements—printable, personalized announcements that let your lucky recipient know that an unforgettable gift is on its way: Romance | Classic | Mystery | Teen | Kids
3) Gift Certificates: Giving a personalized novel from Book By You® is easier than ever, thanks to our Gift Certificates! Your Gift Certificate can be printed immediately from our website and given to your loved one or emailed directly to the lucky recipient. Tip: for extra fun, create a personalized preview for the book(s) you've ordered and print it out to present with the Gift Certificate!
View samples (these samples are much smaller than the actual printable / email certificates):
Purchasing a Gift Certificate...
It's simple! Complete our Gift Certificate order form, then select the type of book (Classic, Romance, Mystery, Teen or Kids) and a shipping option. Your Gift Certificate will cover the cost of the book ($29.95 for a classic novel, $24.95 for a teen or children's novel, or $39.95 for a mystery or romance) plus shipping. Then add the recipient's name and a personal message (if desired) to complete the form and add the certificate to your shopping cart. You can also purchase extras, allowing your lucky recipient(s) to add a custom photograph for the book's back cover, or a cuddly teddy bear to accompany the book.
After your purchase, you can either print your Gift Certificate, or we can email the Gift Certificate to your recipient. Along with the announcement of your gift, we will send instructions on how to redeem the Gift Certificate and the redemption code to be used when shopping.
Redeeming a Gift Certificate...
Have you received a Gift Certificate from Classic Book By You®? Redeeming it and making your book selection is easy. Click here for redemption instructions.
Please note: Gift Certificates are valid for one year from the date of purchase.
Questions? Please call us toll-free at 1-877-898-1440.